Celebrate International Coffee Day with our Fair Trade Favorites
International Coffee Day is coming up on September 29!
Maybe you don't care too much for all these food holidays that seem to happen every single day (I mean, come on, there's a National Green Bean Casserole Day).
But International Coffee Day is not only a chance to celebrate the unsung hero in all of our days; it's a chance for us to use our purchasing power to improve the lives of farmers and growers all over the world. We buy a lot of coffee anyway, right? Why not buy fair trade coffee that's great for workers and for the planet as well?  
So celebrate International Coffee Day with us on September 29! Do some good while celebrating the drink that makes the world go round. Here are a few of our favorite products that do just that.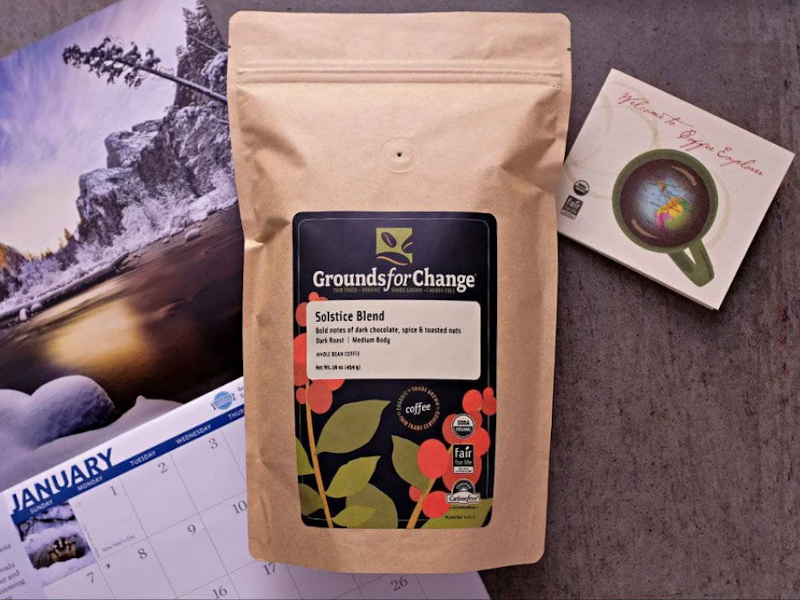 To start off, you just need to make sure you can find a good, dependable roast, right? You will definitely find that with Grounds for Change. Check out all their different roasts and find the one that works for you (they have so many!) 
If you're in the Fall spirit right now, make sure you check out their Autumn Seasonal Blend with notes of vanilla, caramel, and stone fruit. As you may have already read, Grounds for Change really is looking to change the coffee industry; they are certified fair trade, organic, and carbon-free!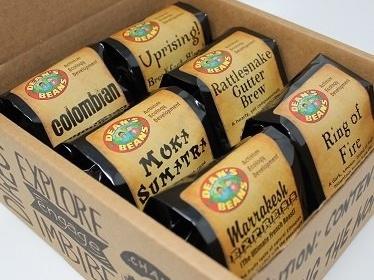 I can't quite wrap my head around wanting to drink the same blend or roast every day. I know you people are out there, but I need a little variety. If you're like me, this six-pack sampler from Dean's Beans is for you! It includes six, 4-oz bags of their most popular roasts; try them out and see which ones you like.  
It goes without saying, since they're on DoneGood—but I'll say it anyway—Dean's Beans is super committed to both investing in their growers and being ecologically responsible. They're a certified B Corp and members of the Fair Trade Federation.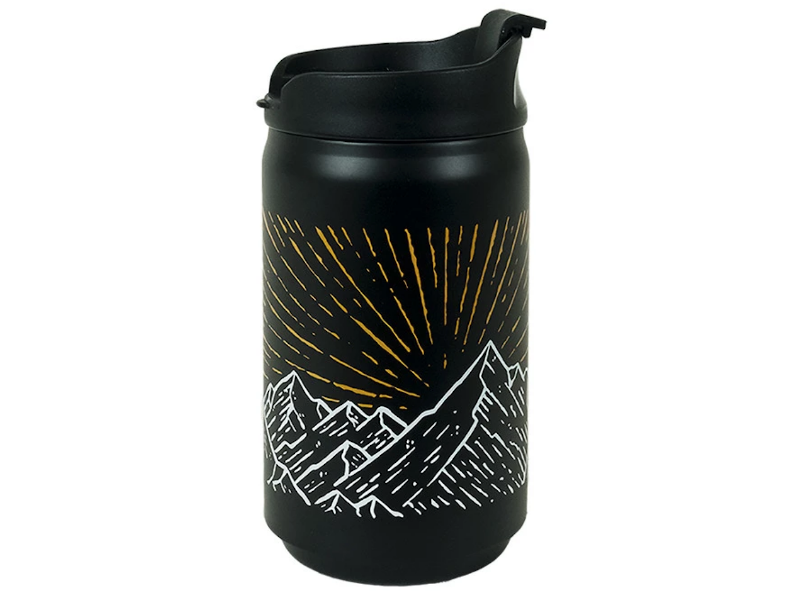 Now we come to my most-used piece of coffee paraphernalia: the travel mug. I'm always bringing my reusable cups of iced coffee somewhere, and I find I can never have enough travel mugs (probably because I'm always bringing my cups of iced coffee somewhere). 
This travel mug from Seek Dry Goods works for either hot or cold drinks, it won't spill (they even say you can use it while backpacking and rafting!), and it fits in a cup holder. Plus the design on it is super cool (and hand-drawn!)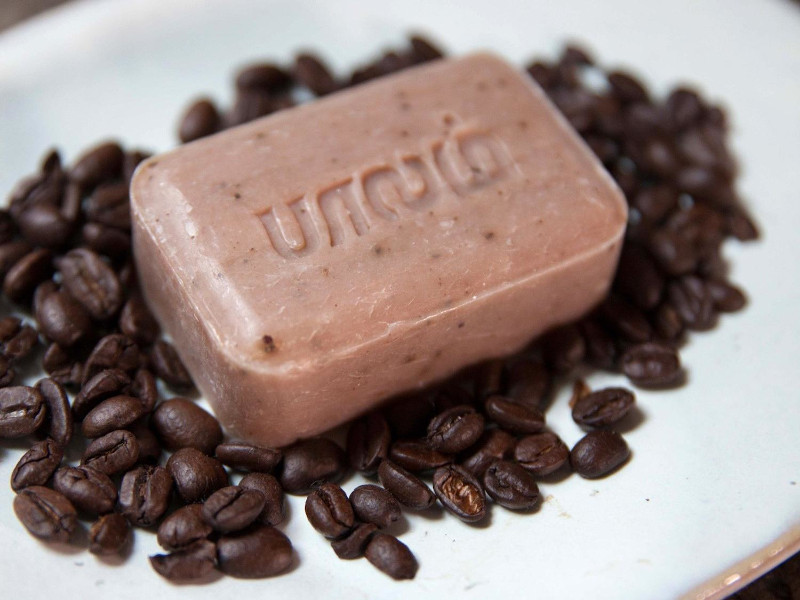 Coffee: it's with you at home, at the office, and in your car, but if you still want to up your coffee game, it may be time to take it into...the bathroom. Don't worry, it's not to drink. 
This Coffee Ground Exfoliating Soap from Ten Thousand Villages will naturally exfoliate your skin, while filling your shower with the sweet smell of coffee. Let's face it, that sounds amazing. This amazing soap is made by empowered workers in India, allowing them to purchase homes and provide for their families.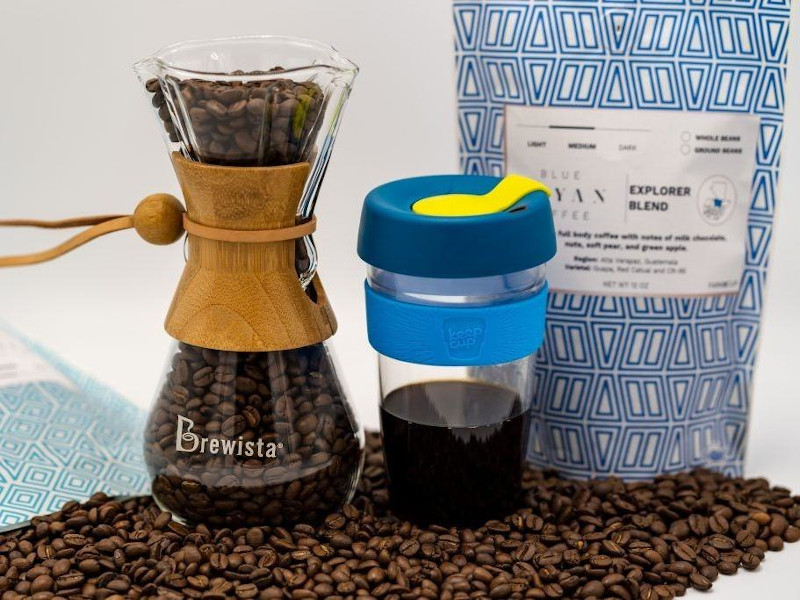 If you can't get enough coffee—and you know exactly how you like it—this coffee box from Blue Mayan Coffee may be just the thing for you. 
This set comes with plenty of your favorite Blue Mayan coffee, a 500 ml hourglass brewer, cone filter, and a reusable travel cup for all that Blue Mayan coffee. It even includes free shipping. If you happen to be shopping for a coffee lover in your life—or if you just want to treat yourself, you've come to the right place.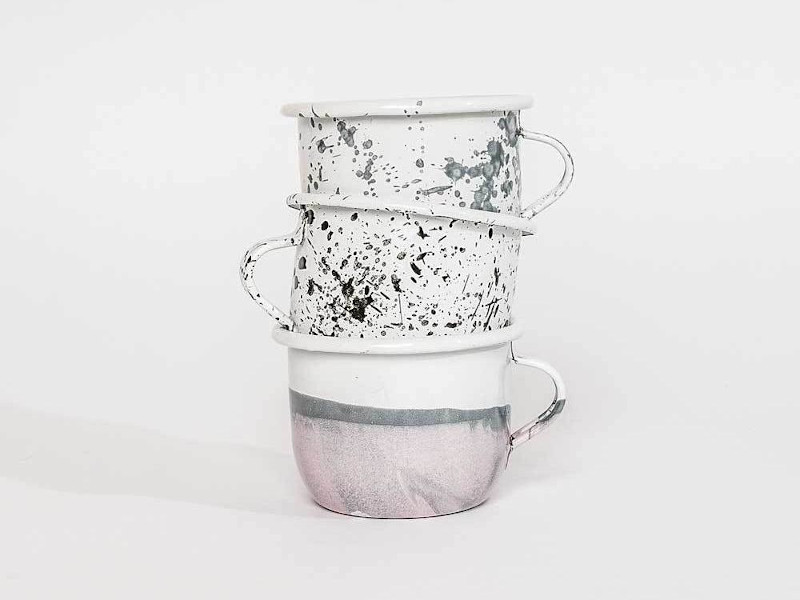 And can you even drink a cup of coffee without a fun and funky mug? I mean, you can, but it's way less enjoyable! For those days when you get to enjoy your coffee at home instead of on-the-go, check out this August Sage Cosmic Mug (cool name, right?) from Made Trade.
Made Trade is all about economic empowerment around the world, so purchasing this mug helps empower the artisans in Guatemala who made it!
Happy Coffee Day, everyone!
Erin King
DoneGood Contributor
Writer, editor, and all-around language enthusiast who 
uses her love of words to help others.

Website
---