The Ultimate Guide to Ethical Men's Casual Wear
Dressing better isn't supposed to be hard.
I still remember the exact moment I decided I wanted to dress better. I was meeting a friend and when she saw me she smiled and said I looked like a "cute nerd".
I was wearing ill-fitting blue jeans that bunched at the ankles, a blue polo, and some brown sandals. I looked like I walked straight out of a Kohl's catalog.
  [caption id="" align="alignnone" width="1612.0"]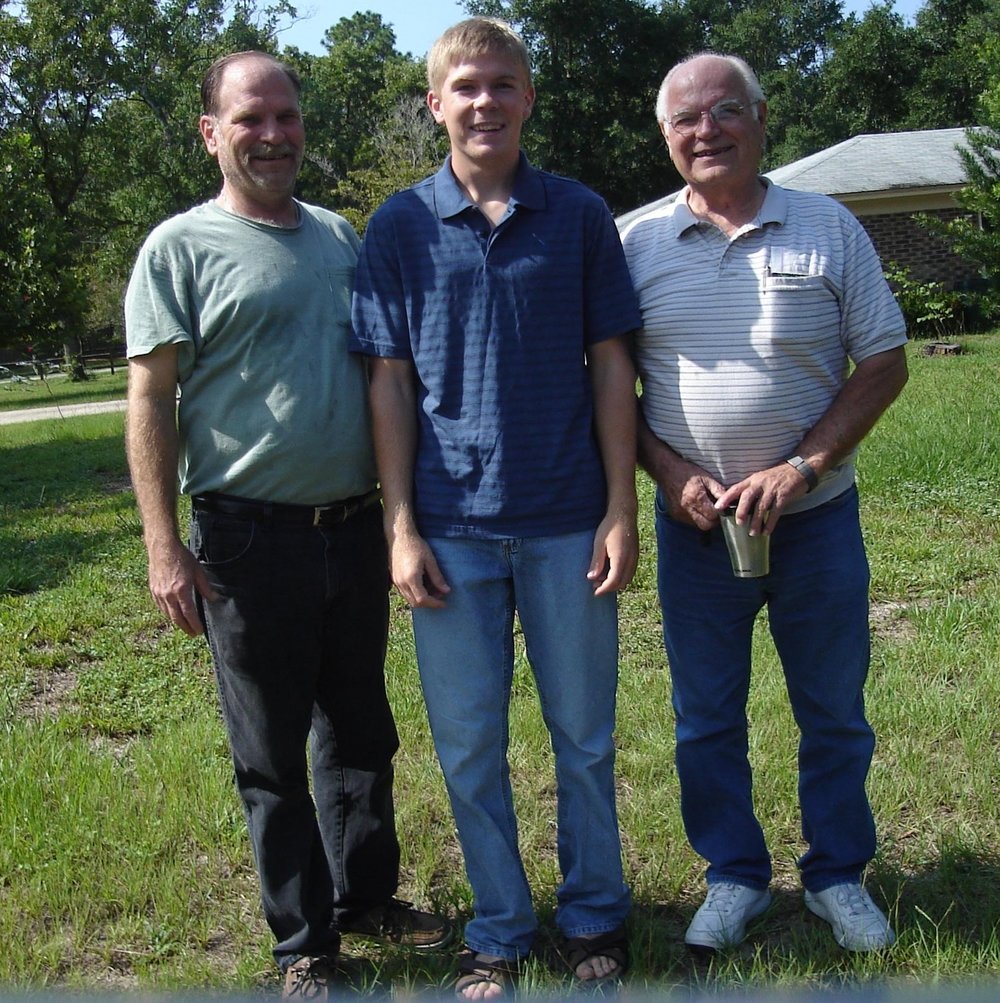 That's me in the middle. [/caption]  
Now truth be told, I am a nerd. What struck me in that moment was the awareness that my clothes say something about me and prior to that I had never taken much interest in what they were saying.
My subconscious thought every time I went shopping was "I just want to blend in". Once I became aware of that, I wanted to change it.
I researched men's fashion and what I found was a lot of edgy, colorful outfits that looked great but were leaps and bounds above my comfort zone. I wanted to look better but I wasn't ready for all that.
What I learned over time is that you don't have to be a fashionista to look great and boost your confidence. You don't even have to dress colorful if you don't want to.
All you really need is a few casual men's staples and some outfit ideas for how to assemble them. You can boost your image practically overnight.
I'll share with you the 5 simple guidelines I learned to master men's casual attire and dress better within your comfort zone. You do you.
Keep it simple with solid men's staples.  
Keeping it simple in menswear can go a long way. See for yourself.
  [caption id="" align="alignnone" width="884.0"]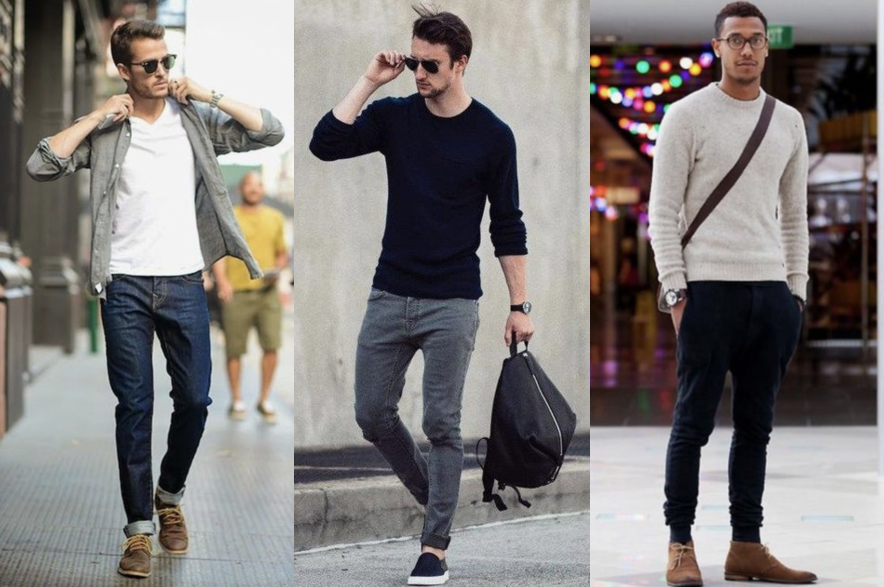 Source: Pinterest [/caption]  
All these outfits have simple staple pieces in neutral colors and are easy to replicate. It's pretty much just pants, a shirt, and some shoes.
So how do you capture this look? Get some solid staple pieces in neutral colors and you'll learn how to assemble them in the next steps.
Before getting started, there's one more piece of advice. Turn in your graphic tees for something more sophisticated. You don't see any graphic tees in the above pictures, and that's a good thing.
Go instead for some plain t-shirts, henleys or button-ups for a mature and stylish look. When you care how you dress, people notice.
Then get a nice pair of jeans or chinos for your go-to pants. They go great with so many things and are easy to dress up or dress down.
Here's some Done Good approved brands for you to find those staple pants and shirts.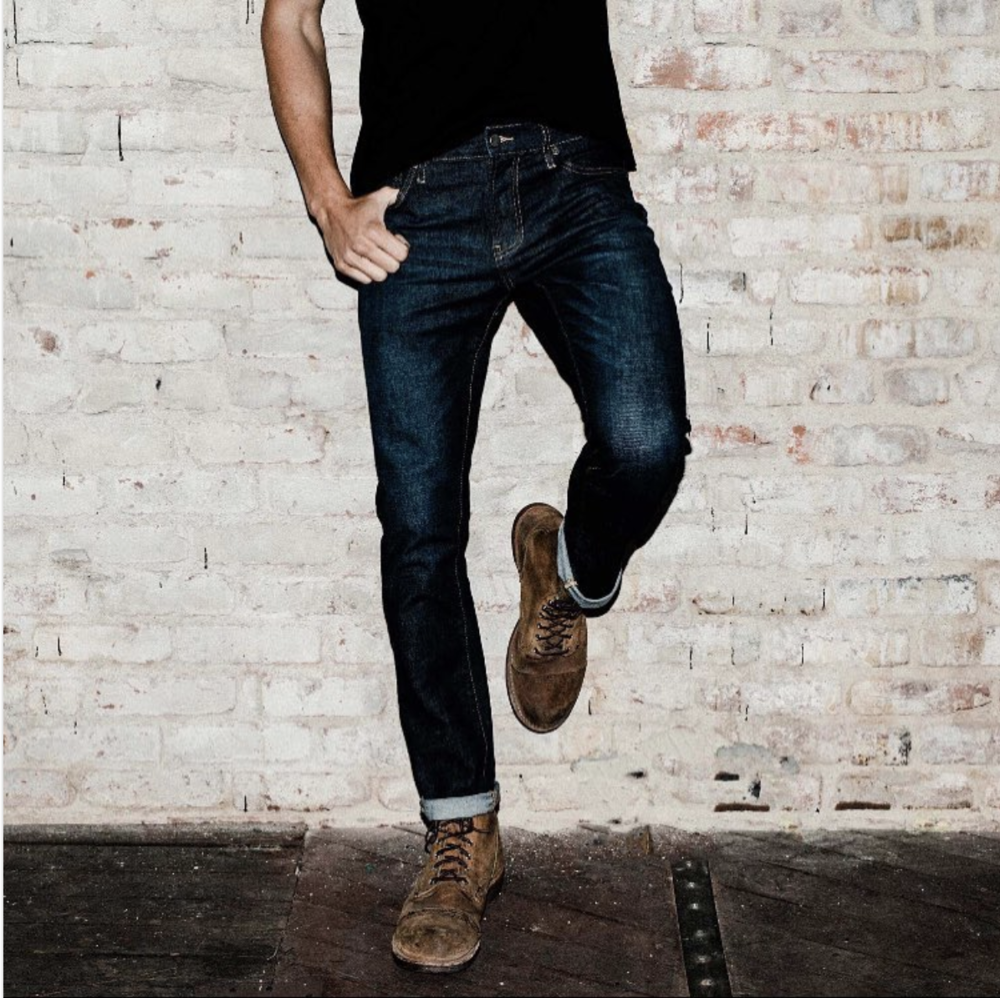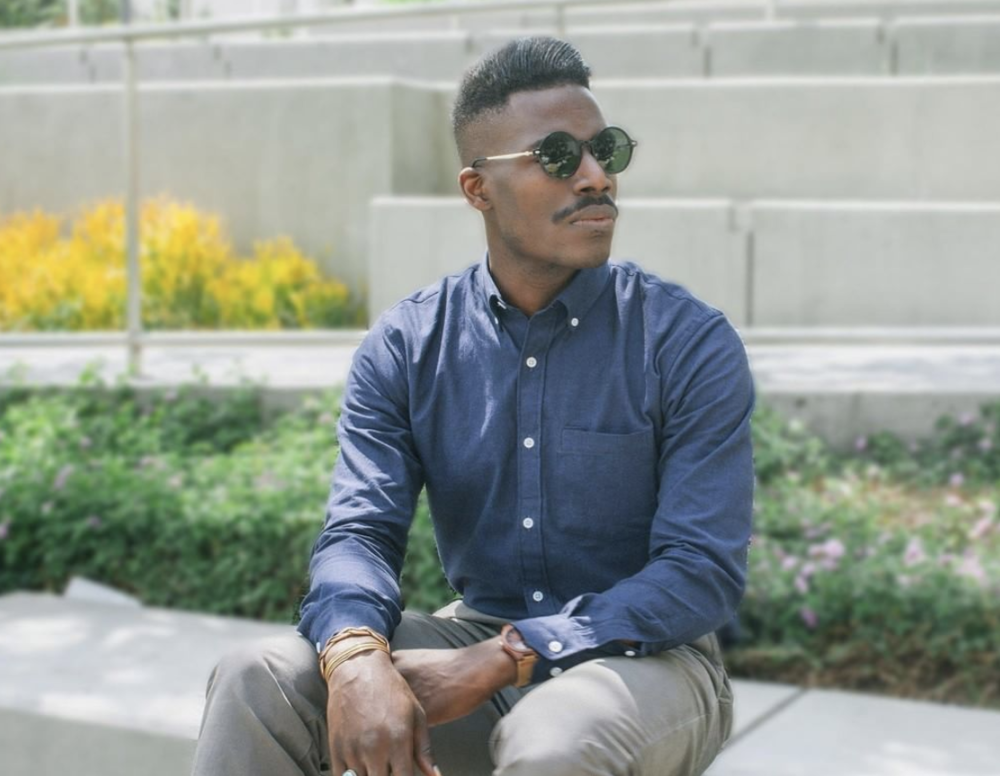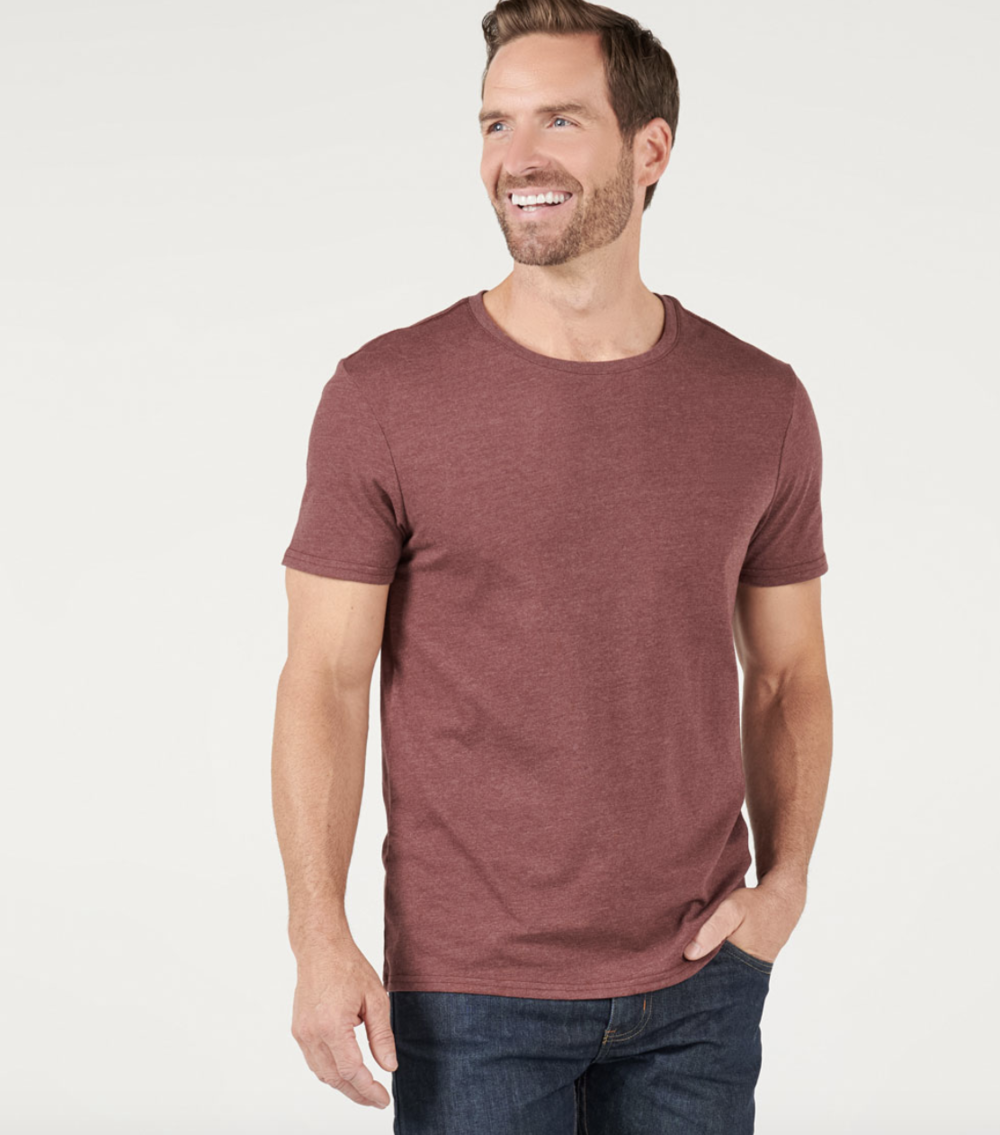 Once you've got the basics squared away, it's time to look down. At your feet.
Get neutral-tone shoes to match with your outfits.
Everybody wears shoes, right? You're probably thinking you've got this step figured out. However, failure in this department can undo all of your efforts to look more dressed up. The perfect example is the infamous, or rather notorious, jeans and running shoes look.
Jeans with colorful runners looks like you're confusing your workout time with your going out time. Instead, make sure you have some nice shoes ready to wear and ready to pair.
Here's how you pair oxfords, loafers, or sneakers with your casual staple apparel.
  [caption id="" align="alignnone" width="779.0"]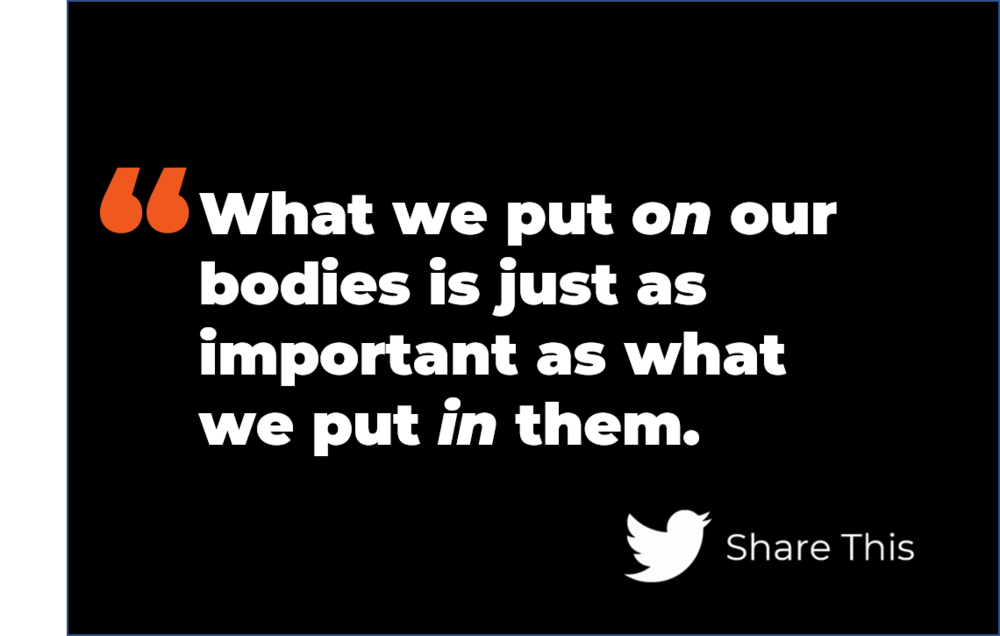 Source: Instagram [/caption]  
The color of your shoes matters and that's because they should match your outfit. The simplest way to think about this is to match your shoes to your pants, not to your shirt.
For example, brown shoes look great with blue jeans, khakis, or white jeans. Black shoes look great with black pants and can match virtually any other color. Just be aware that sometimes brown shoes look better with certain colors, especially blue.
White shoes with black pants looks good and just like black shoes, white shoes match virtually any color. Always check to make sure your white shoes don't stand out too much relative to your whole outfit. 
We'll dig a little deeper into matching in the next step, so for now remember that the key is to match your shoes to your pants. Here's a few dapper examples.
  [caption id="" align="alignnone" width="971.0"]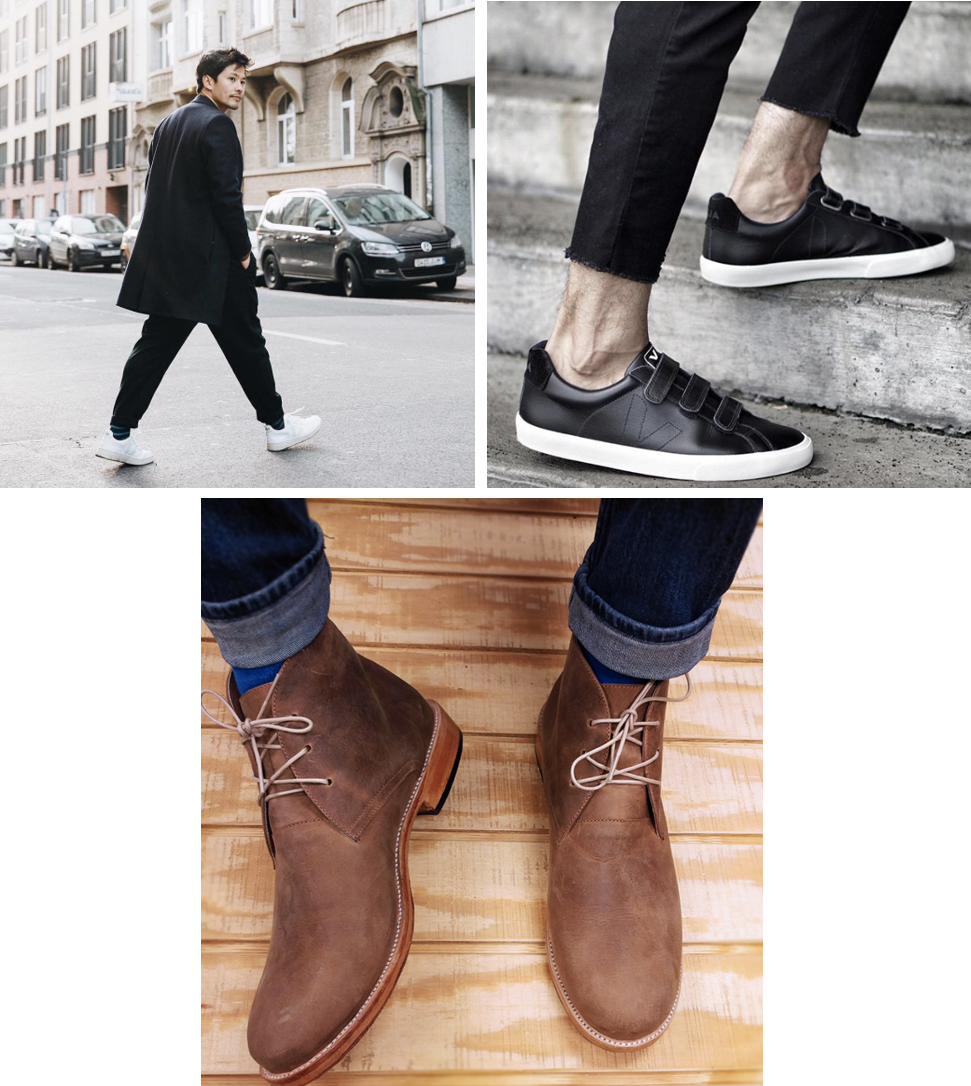 Source: Instagram [/caption]  
When it comes to matching shoes don't forget your socks! Socks should always match either your pants or your shoes. You pick, but don't skip both or you'll be in trouble. Style trouble.
For some nice shoes, check out these Done Good approved brands.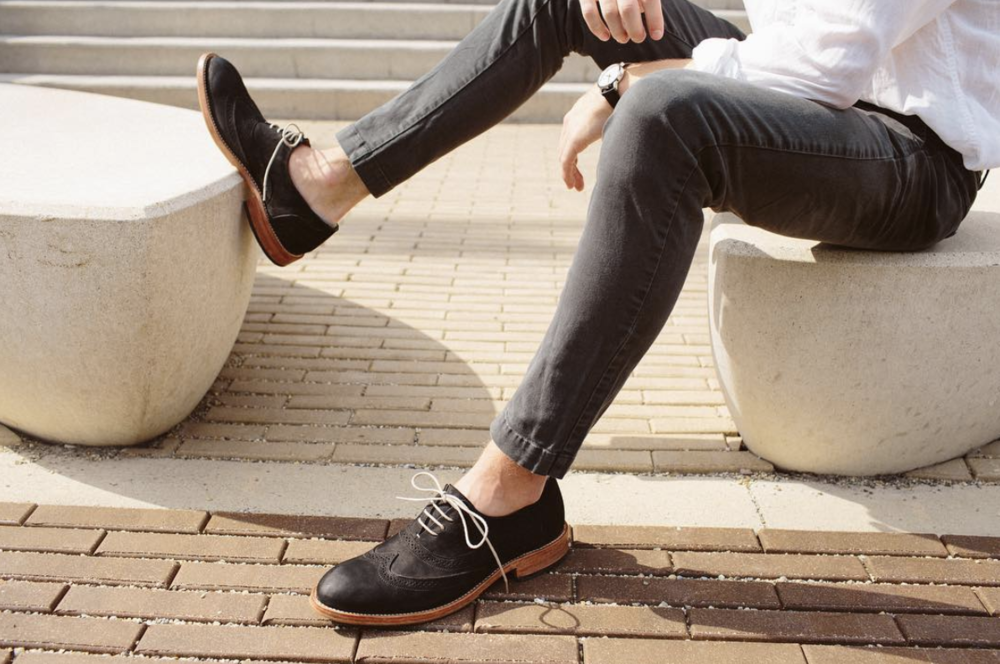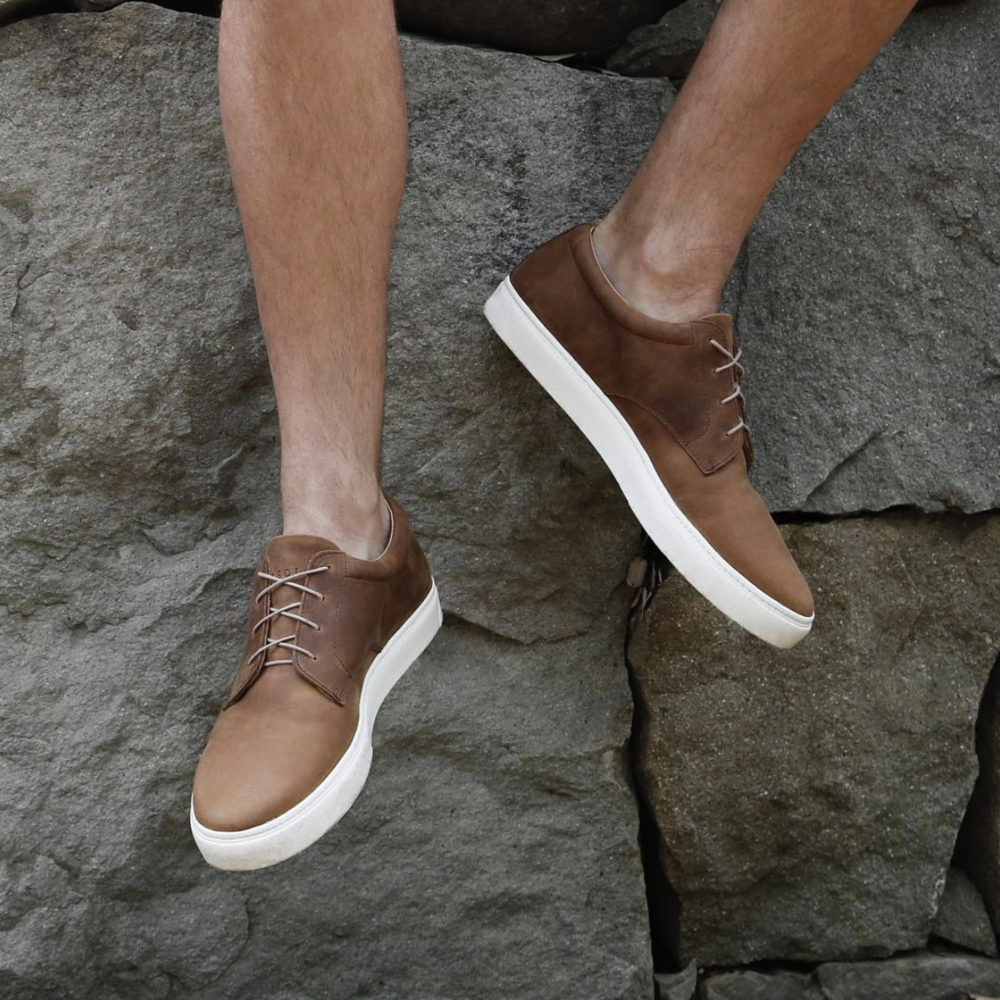 Admittedly, this was a pretty quick tutorial on shoes. For a deeper dive into which types of shoes to buy and how to wear them, check out our guide 5 Ethical Shoes for Any Man's Outfit.
Now that you've got some shoes and staples, it's time to put it all together.
Match the colors of your outfit.
Having great items is one thing, but if your pieces don't match it still won't look great. Imagine blue jeans with a blue shirt. Boring and looks like a uniform. Olive khakis with a red shirt? Ask yourself if it's Christmas day and if the answer is no, return to your closet and try again.
Matching your colors will really help you look put together, and keeping it to neutral colors makes that whole process super simple.
If your staples consist of black pants, white pants, jeans, grey shirts, white shirts, black shirts, and olive green shirts, you've got a lot of options for matching.
For example, if you pair any of those pants mentioned with a red button up shirt, it's going to look really good and match perfect. The rule works the other way too. If you pair colorful pants with a neutral shirt it's also going to look great.
Imagine olive pants with a black or white shirt and you'll know exactly what I mean. Now imagine red pants with a white shirt. Equally stunning.
  [caption id="" align="alignnone" width="910.0"]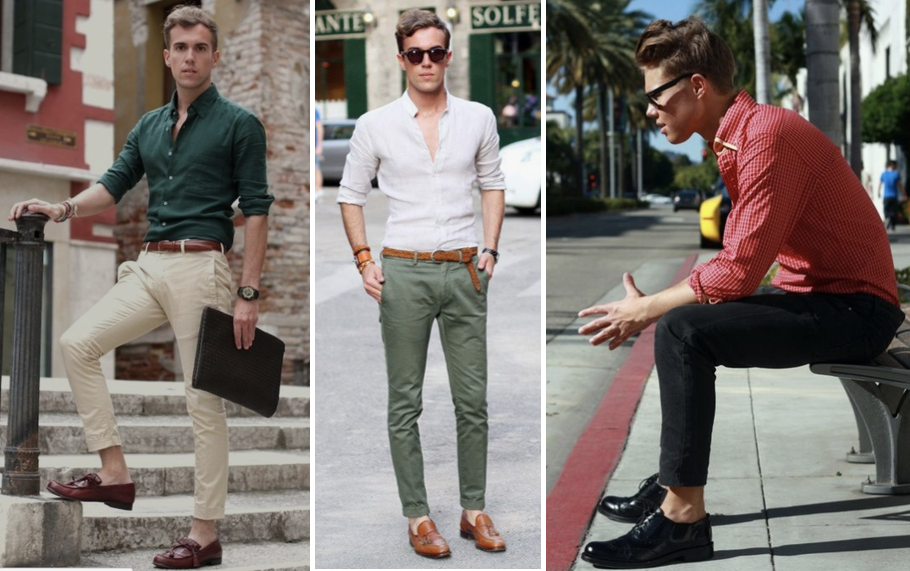 Source: Pinterest [/caption]  
This whole matching game just got a whole lot easier, huh?
Using neutral colors as your base strategy is your easiest way to own the matching game. However, if you're curious about more advanced matching knowledge check out Trendspotter's guide.
Now before you run off to the races, there's a couple more guidelines to help you look great.
Check the balance of your outfit.
Rest assured, this isn't as boring as balancing your checkbook. No math involved here.
What is balance? Balance is about managing the right amount of colors and patterns so you look good without overwhelming the person viewing you.
For example, clashing patterns can look confusing and be a lot to look at. Imagine striped pants with a printed pattern shirt, or plaid trousers with a striped shirt.
The simplest way to avoid this type of clashing is to only go for one striped or patterned item in your outfit.  For example, jeans with plaid looks great or a striped shirt and khakis.
  [caption id="" align="alignnone" width="800.0"]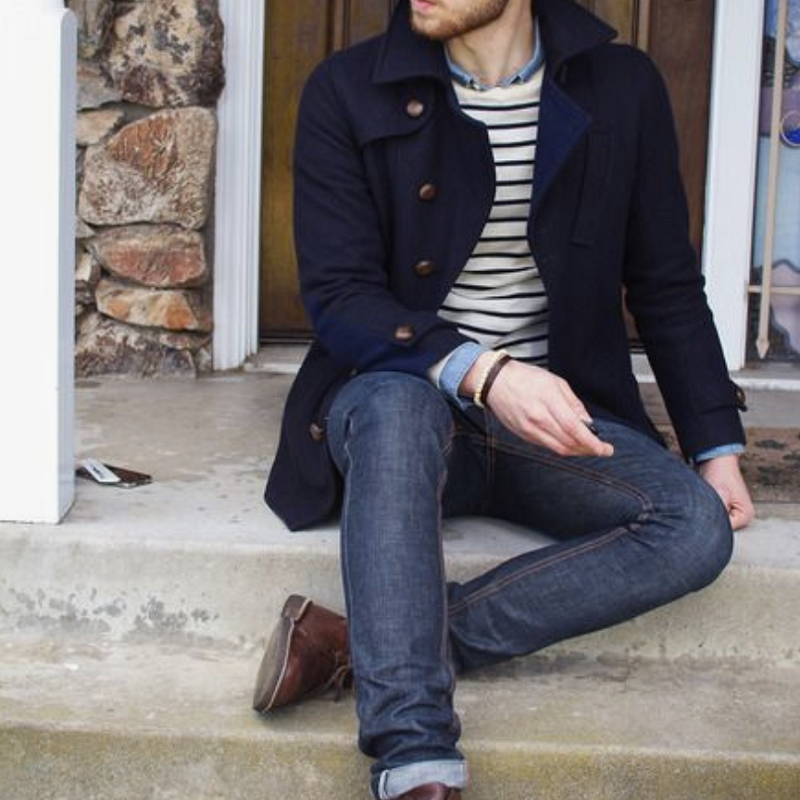 Source: Pinterest [/caption]  
Stick to this rule and you'll be golden.
You can also achieve balance with colors. An outfit with bright orange, bright pink, and bright green is probably going to look pretty awful.
How about an outfit of neutral colors with just one bright color? Dapper.
This rule is called wear one thing that "pops". Visualize black pants, black shoes, and a red button-up shirt and you'll have the idea.
  [caption id="" align="alignnone" width="800.0"]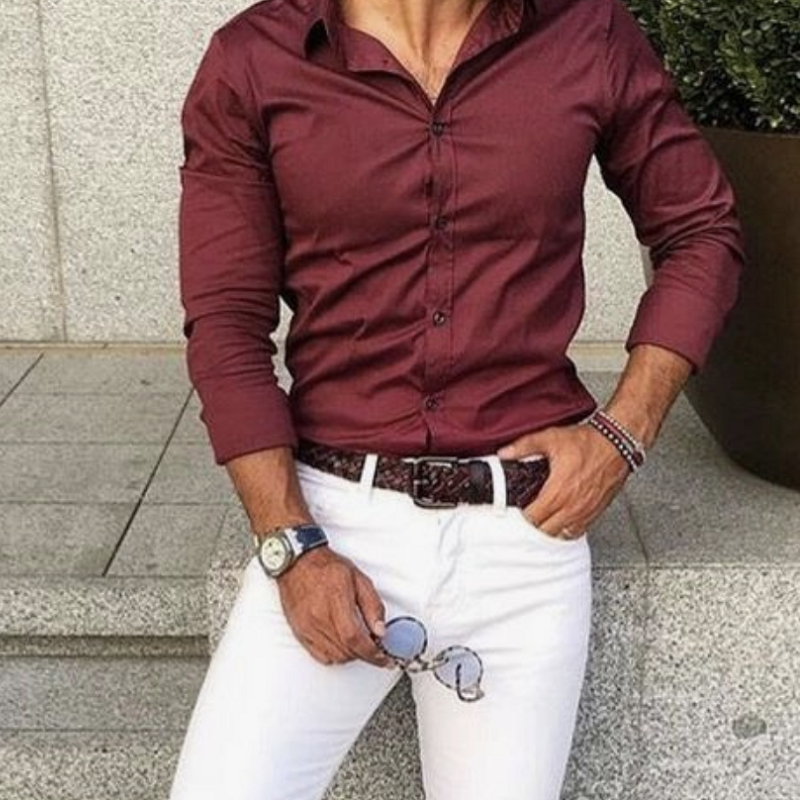 Source: Pinterest [/caption]  
This rule is easy to follow and helps ensure you're maintaining balance.

While it is possible to wear multiple items that pop and look great, save that for the fashionistas. If you love fashion and want to do some edgier outfits, then by all means experiment because fashion should be fun.
For some great shirts that pop, check out these Done Good approved brands: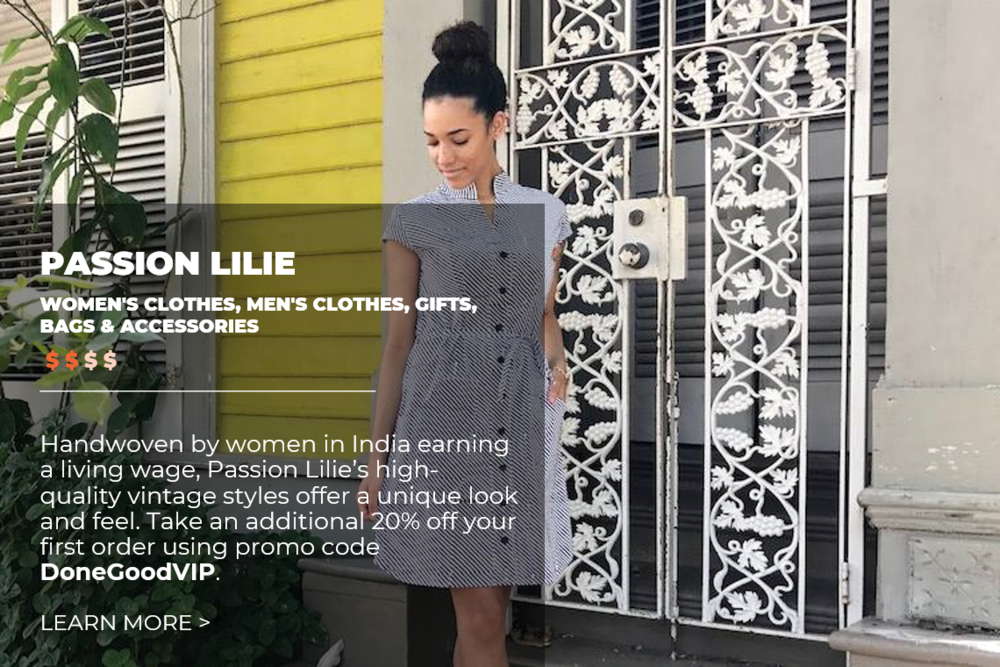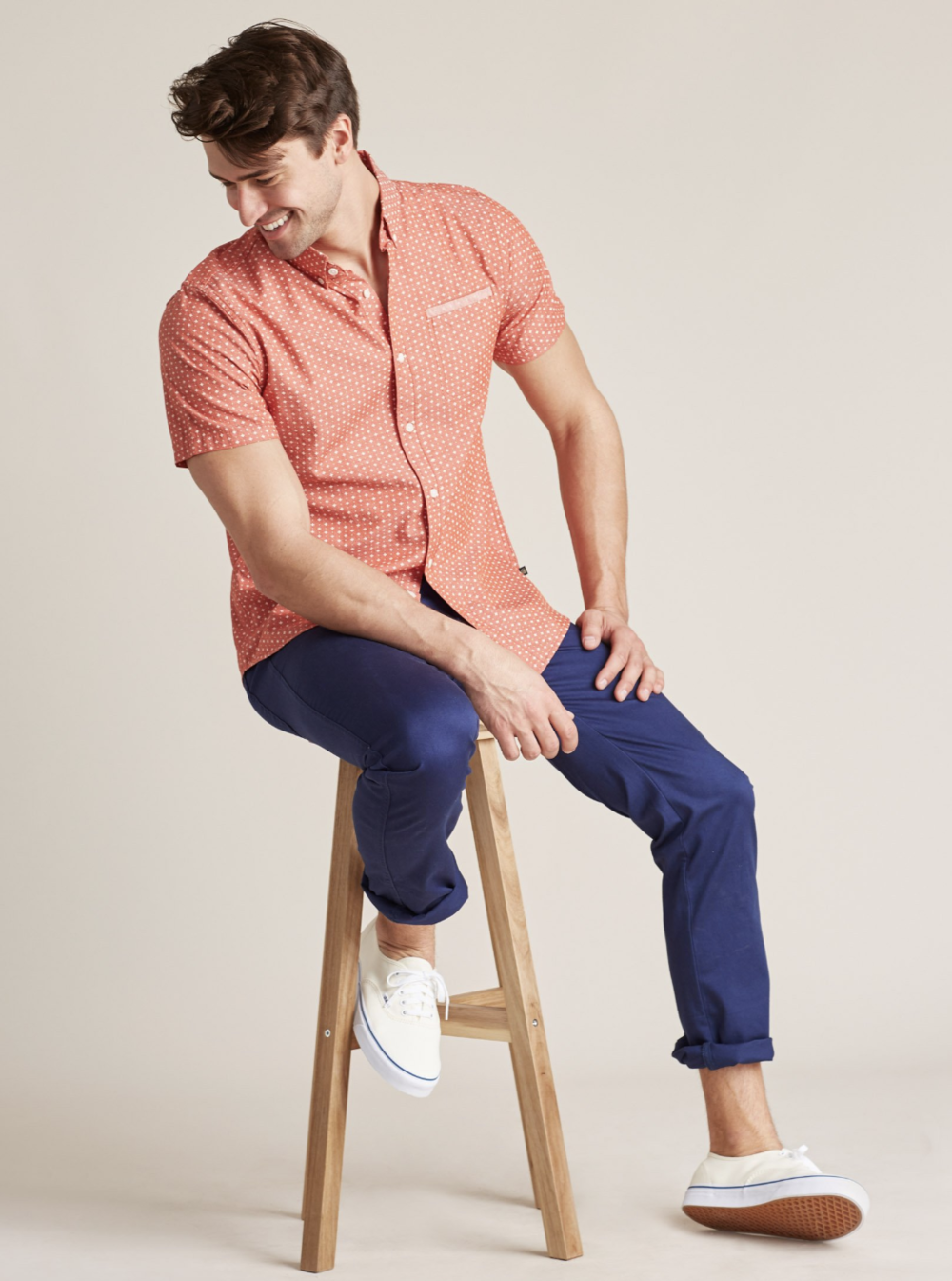 Manage the overall fit of your outfit. 
It's important that each individual piece of an outfit fits you well. Your sleeves should be long enough, your shirt fitting enough, your pants long enough but also not too long so they bunch at the ankles. You get the idea.
Now while all of your items should fit you well, it's important to note that some of those items will be a tighter fit and some will be a looser fit. How you pair those items matters.
This is what is called the overall fit of the outfit. Have you ever seen a guy with really tight pants and a skin-tight shirt? It looks like he's showing off his gym bod and like he's pretty uncomfortable. This outfit would look better with either a looser shirt or looser pants.
The opposite is also true, loose pants and a loose shirt looks like your clothes don't fit and you need some help shopping. Shoot for an overall balance.
Pair slim jeans with a looser top or pair regular fit pants with a more fitted shirt. See for yourself how great it looks.
  [caption id="" align="alignnone" width="590.0"]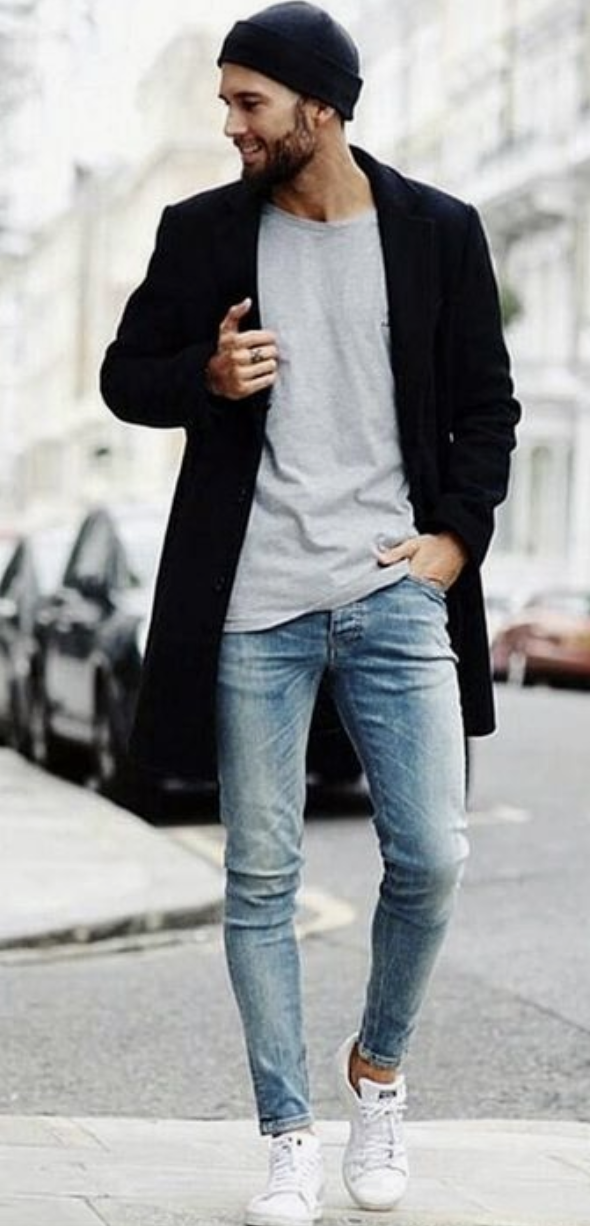 Source: Pinterest [/caption]  
The key to remember here is not to go with all tight items or all loose items. Seek a mixture of both in your outfit.
Now that you've got the basics in your grasp, it's time to elevate your style. Let how you dress say exactly what you want it to say about you. Style questions? Reach out to me directly (details below).
---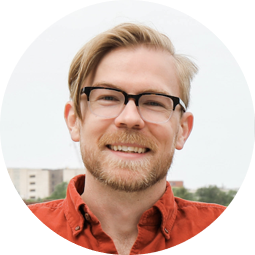 About the Author
Garik Himebaugh is the founder at Eco-Stylist, a stylishly curated collection of eco-conscious menswear. He provides personal style consultations including custom lookbook creation, wardrobe renovation, and special event styling, both remotely and locally from Iowa City, Iowa. Follow on Instagram @yourecostylist
---