Natural, Organic Household Cleaning Products—That Actually Work—Updated for 2022
From dishwashing and laundry detergent pods to disinfectants and glass cleaners, many are switching to non-toxic, eco-friendly brands like these.
It can make your head swim. "Toxic." "Corrosive." "Flammable." These warning labels belong in a power plant, not your home.
But with brands using so many different chemicals in everyday home cleaning supplies—combined with a torrent of competing research on household chemicals—it can be hard to know which detergents, wipes, and other cleaning products are safe for our families and eco-friendly.    
So even we decide that we want to make the switch to "natural," "organic," and "non-toxic" home cleaning supplies, we're stuck trying to figure out where to find them and which ones work best.
Fear not: it is possible to wash your dishes without polluting your home. And to prove it, here are five of the best home cleaning products that are safe for people, kids, pets, and the planet—but still kick dirt's ass.
Before we dig into the list, if you like learning about brands that are changing the way the world does business, want to be the first to know about new arrivals on DoneGood, and get exclusive discounts delivered right to your inbox, sign up for email from DoneGood below. We'll start you off with over a dozen ways to save on ethically-made products!
Ok, back to it...
LOW-WASTE ALL-PURPOSE CLEANERS, DISH SOAPS, GLASS CLEANERS, AND PERSONAL CARE
Save 15% on your first purchase of Fountain House + Body with promo code FOUNTAINHOUSE15
Fountain House + Body is a New York-based shop that invests in the community (more on that below) while making great low-waste, natural cleaning and personal care products.
Check out their collection and you'll find cleaning solutions in glass bottles (yay for less plastic!), coconut bar dish soap, reusable paper towels, and way more to help you care for the planet and your home. All their products are made with natural ingredients and scented with essential oils.
And beyond just their products, Fountain House + Body is all about community impact, empowering their employees and proudly making their products in the USA. Their goal is to create jobs for individuals with mental illness, sell sustainable and low waste products, and to make money so they can create even more jobs!
ALL-PURPOSE HOME CLEANING SPRAY, CLEANING SCRUBS, LAUNDRY DETERGENT, BATH AND BODY WASH
Save $10 off your first purchase of $50+ with promo code MELIORA10
Meliora is Latin for "better."  Better for people, better for the planet, better cleaners, in all sorts of ways.  Their cleaners, both home cleaners and body soaps, are made from 100% natural ingredients like washing and baking soda, coconut and sunflower oil, and glycerin. 
Their scents are made from organic materials too, like organic lemon, lavender, tea tree, peppermint, and other organic ingredients. They never use "fragrance"—like we noted in our blog on all-natural shampoos and conditioners, the word "fragrance" is exempt from FDA ingredient-listing rules—so whenever you see fragrance in the ingredients list, it might as well read some chemical compounds we don't want to tell you about.
Meliora is a better kind of business overall too—they pay living wages, are B Corp Certified for overall social and environmental responsibility, are Made Safe Certified for their use of natural and safe ingredients, Leaping Bunny Certified to never be tested on animals. All their products are Made in the USA in their Chicago-based facility (DoneGood team has toured their facility there—it's pretty snazzy).

PLASTIC-FREE LAUNDRY AND DISHWASHER DETERGENT PODS
Know who invented laundry detergent pods? Hint: It wasn't Tide or Gain. It was the makers of an eco-friendly, natural detergent called Dropps. In an effort to be even better for the environment they created water-soluble pods as a way to eliminate the need for the big plastic jugs used to deliver most detergents. 
The family behind Dropps has led the industry since the '80s. They started off making fabric for clothing and were frustrated that most detergents were so stringent they killed their high-quality fabrics quickly. So they developed a detergent that removed the enzymes that were destroying clothes and irritating skin to create a natural detergent that was gentle on fabric, people and the environment, but still got clothes exceptionally clean (so much so their formula has been rated the #1 detergent by Consumer Reports).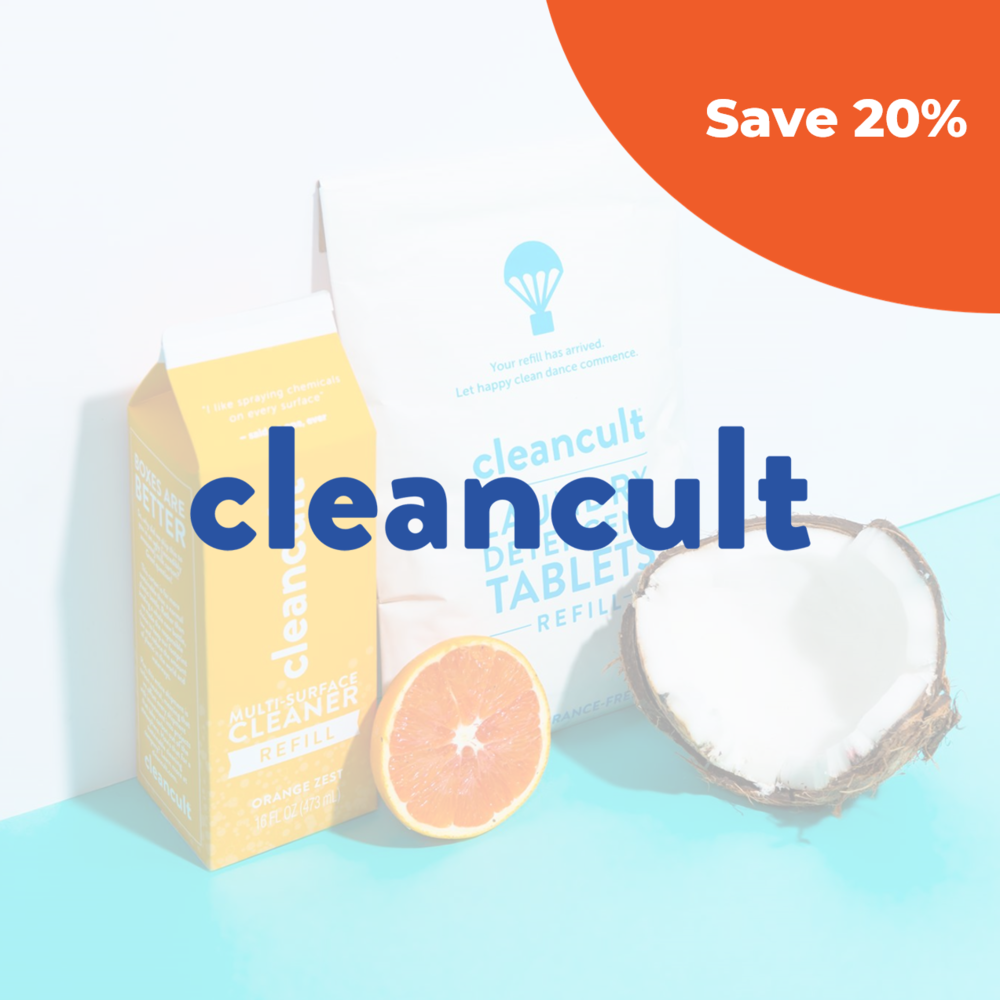 ALL-PURPOSE CLEANING SPRAY, DISH SOAP, DISHWASHER, LAUNDRY TABLETS, AND HAND SOAPS
CleanCult's name implies devout obsession. Their tagline is bold: "The cleanest household cleaners on the planet." Big words… but they're backing it up. For full transparency, their site has a colorful diagram of all their cleaners' ingredients: the main ingredient is coconut oil, which has fatty acids that, when combined with lye, turn into a powerful antiviral, antifungal, and antibacterial agent. Other ingredients include olive oil, organic rosemary extract, aloe, and other natural stuff.
Notice anything missing? Right—no nasty chemicals.
Their plastic-free pods are good for the earth, too. And to go a step further they've set up carbon offsets to ensure their entire operation is carbon-neutral.
CleanCult has another motto, "The first rule of CleanCult is: cleaners gotta clean."  They stand by their products' toughness and ability to do the job of getting things clean first and foremost. 

ALL-PURPOSE CLEANER, GLASS CLEANER, DISH SOAP, NATURAL YOGA MAT SPRAY (AS WELL AS ALL SORTS OF BATH, BODY, AND BEAUTY PRODUCTS)
Refill Shoppe not only offers non-toxic cleaning supplies (including one of the few we know to offer a safer glass cleaner), they do so in a really sustainable way as pioneers in the movement to reduce single-use plastics.
As their name suggests, the company sells products in a bottle for first use, but then you can choose to re-order in pouches so you can continue to reuse the original bottles. Since 2010, Refill Shoppe and its customers have saved thousands of bottles from stuffing landfills.
Refill Shoppe is a Certified B Corp and 1% for the Planet member. And the founder Michelle is awesome—Refill Shoppe was one of the earliest companies DoneGood approved to be added to our platform, and it's always been a pleasure to talk to Michelle about her authentic passion for Refill Shoppe's mission.

---
---